Minnesota family reunited after 15 years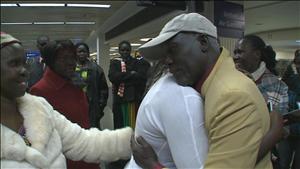 ■    A Sudanese pastor has been reunited with his family in Minnesota, 15 years after he sent them to America to escape anti-Christian violence. Cheing Chut's family fled southern Sudan in the 1990s, but the First Adventist minister stayed behind to ensure his congregation's safety. After 9/11, Sudan was named a sponsor of terrorism, making immigration to the U.S. nearly impossible.
But this week, after years of work to overcome red tape, Chut was finally reunited with his wife and six children. "We never thought this day would come," said his daughter Nyahon Chut.