Poem – Action Paint Stripper (By David Russell)

Action Paint Stripper
He did it:
Bared around as a torn poster –
Slashed in irrigation, blatant in life.
Squeezing out worms, slugs
And snakes ablaze;
All burst to flood
Then blended underlay –
A laminated rainbow.
His luminescence crossed exposure's edge;
Flesh writhed erogenous,
Prime canvas scrubbed.
Paint frames contorted
To every edge and corner,
Intestine centre
Rose to a shining swell –
Over he jumped – my razor bleep of terror.
Treading on sound's soil,
A clogged, bunged, throbbing dub,
Whence life's six oozing hues.
Author Bio:
David Russell was born in 1940. Resident in the UK. Writer of poetry, literary criticism, speculative fiction and romance. Main poetry collection Prickling Counterpoints (1998); poems published in online International Times. Main speculative works
High Wired On
(2002); Rock Bottom (2005).
Translation of Spanish epic La Araucana
, Amazon 2013. Romances:
Self's Blossom
;
Explorations
;
Further Explorations
;
Therapy Rapture
;
Darlene, An Ecstatic Rendezvous
(all pub Extasy (
Devine Destinies
). Singer-songwriter/guitarist. Main CD albums Bacteria Shrapnel and Kaleidoscope Concentrate. Many tracks on You Tube.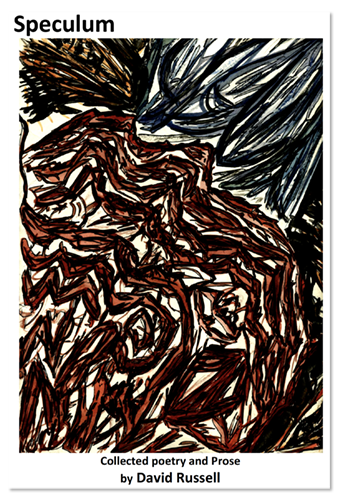 This poem is part of the complete collection; Speculum: Collected Poetry and Prose, by David Russell.
View or Download the complete collection
here
in PDF format.
Follow David Russell on Amazon:
Click Here
.