Poem – Alchemist (By David Russell)

Alchemist
Sing, earth-captured starlight
Purest light to touch the earth
Purest light to flow through day and night
To flood our sense-zone;
Sing through my blinking tubes and phials,
All potions, never poured;
Yet all suffused in afterthought.
My litmus-jewels, made one by burning faces,
turning suns,
That charred the fixed eye, the rooted touch.
Bodies I gel, not cruelly liquefy,
Nor form from glass-defined portions;
I move them, through their opaqueness in my eyes
to their own whole frames and shapes;
Cast by a mould beyond the maker here,
the measurer
And yet exhausting first their full extent.
Fill out, oneself a phial,
Fluted to slender siphoning, a line, a moving;
Love-cornering the loving, clinging eye,
Love cornering skins in darkness, parched and bleached;
Locked in through small breedings
in clean-forgotten courses,
The moss, the earth-polluted tubes, the same.
Author Bio:
David Russell was born in 1940. Resident in the UK. Writer of poetry, literary criticism, speculative fiction and romance. Main poetry collection Prickling Counterpoints (1998); poems published in online International Times. Main speculative works
High Wired On
(2002); Rock Bottom (2005).
Translation of Spanish epic La Araucana
, Amazon 2013. Romances:
Self's Blossom
;
Explorations
;
Further Explorations
;
Therapy Rapture
;
Darlene, An Ecstatic Rendezvous
(all pub Extasy (
Devine Destinies
). Singer-songwriter/guitarist. Main CD albums Bacteria Shrapnel and Kaleidoscope Concentrate. Many tracks on You Tube.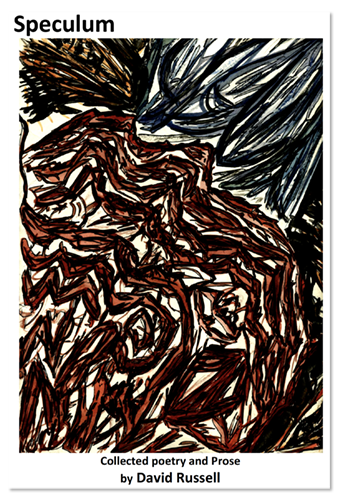 This poem is part of the complete collection; Speculum: Collected Poetry and Prose, by David Russell.
View or Download the complete collection
here
in PDF format.
Follow David Russell on Amazon:
Click Here
.