Poem – All I Had Was Gone (By R.T. Castleberry)

I take a 12 month chip,
a copy of The Iceman Cometh,
drape myself in Union blue,
cultivate a salesman's grinning grip.
A Valley trip lies ahead,
road miles registered in a company car.
Spring becoming summer,
there's a ghost in the garden,
a feral cat, sensuous in the drying grass.
I light a Tiparillo,
block walk the gentrified greenery–
open lawn, fenced lawn,
high oaks arcing the boulevard.
Black dirt dust from a truck farm town
cakes a two-toned Chrysler.
The 5 column church is silent
this Thursday afternoon.
Doors are locked. I tip my hat
to the service schedule
set and framed in quarry marble.
A Hickey-Freeman coat of summer weight wool
is thumbed over a shoulder.
There is no place left I seem to see.
Cigar ash flurries in the wind.
The Countess Mara silk stays tight,
tied with a 4 hand knot.
An oil derrick figure on tie clip and cufflinks
mark ten years service
Down a distant circular drive,
a lone boy pushes a bike.
He hops the seat, gains the pedals,
wings around the median
and is gone.
I'll bring a survey team
to this memory next week.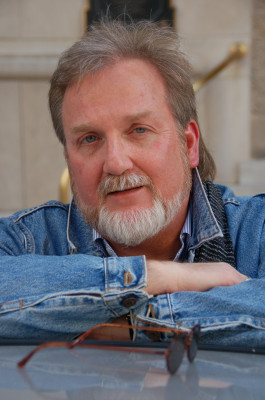 R.T. Castleberry's work has appeared in Comstock Review, Green Mountains Review, Santa Fe Literary Review, The Alembic, Pacific Review, RiverSedge and Caveat Lector, among other journals. I am a co-founder of the Flying Dutchman Writers Troupe, co-editor/publisher of the poetry magazine Curbside Review, an assistant editor for Lily Poetry Review and Ardent My work has been featured in the anthologies Travois-An Anthology of Texas Poetry, TimeSlice and The Weight of Addition. My chapbook, Arriving At The Riverside, was published by Finishing Line Press in January, 2010. An e-book, Dialogue and Appetite, was published by Right Hand Pointing in May, 2011.