Poem – Carnival (By David Russell)

Carnival
That peacock opulence,
Swarming on strutting grime;
That massed ecstasy, squeezing itself,
Short-breathed, near suffocation;
That sound-abandonment, seeming to plunge
To deafness's peace;
Yet keeping those maimed faculties alive,
Ever denying their last fulfilment.
Maybe it's only I and it,
I, starting in the middle
And it, commensurate with my idea
Of my own size?
Maybe I didn't grow
To match its quarter million,
Or maybe I didn't shrink that far.
Yet never could I mar
That general bliss,
For truth is in strong feeling
And critics never bring their rules
To taboos' strength.
Author Bio:
David Russell was born in 1940. Resident in the UK. Writer of poetry, literary criticism, speculative fiction and romance. Main poetry collection Prickling Counterpoints (1998); poems published in online International Times. Main speculative works
High Wired On
(2002); Rock Bottom (2005).
Translation of Spanish epic La Araucana
, Amazon 2013. Romances:
Self's Blossom
;
Explorations
;
Further Explorations
;
Therapy Rapture
;
Darlene, An Ecstatic Rendezvous
(all pub Extasy (
Devine Destinies
). Singer-songwriter/guitarist. Main CD albums Bacteria Shrapnel and Kaleidoscope Concentrate. Many tracks on You Tube.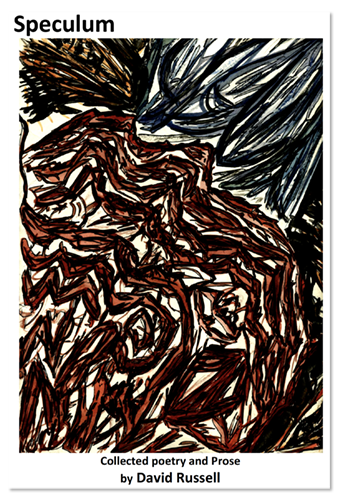 This poem is part of the complete collection; Speculum: Collected Poetry and Prose, by David Russell.
View or Download the complete collection
here
in PDF format.
Follow David Russell on Amazon:
Click Here
.