Poem – Dark Dream (By David Russell)

Dark Dream
Out came the swarms of shadow things
To make their dead messages,
To find their story-forms,
Glinting chitin delighting,
Reeding the pitches.
Down went the depths, encased and ethered,
Numbing us to touch the greater.
Down went the coils of lit signs,
And made the questions dark and known,
And made the answers dark and known
And wisped the forests harshly blown
And came to seek and find.
Up rushed the fugitive bearer,
Sheerly slithering, faces swarming,
Moss-treachery to bounce –
To find the friendly start-swathes,
Be one of them and stay.
Up rushed the swarms of shadow-things,
Piling where they could not climb,
And moaning – in a dolphin-pitch:
"Be one of us, for now we rim the cup of rock
So are receiving rain;
Be one of us; we are the lance's strength and goal;
Be one of us – we go in peace yet never neutral;
Be one of us – we are the stars above where we are not;
Be one, be us, be known, begone – Belong!"
Author Bio:
David Russell was born in 1940. Resident in the UK. Writer of poetry, literary criticism, speculative fiction and romance. Main poetry collection Prickling Counterpoints (1998); poems published in online International Times. Main speculative works
High Wired On
(2002); Rock Bottom (2005).
Translation of Spanish epic La Araucana
, Amazon 2013. Romances:
Self's Blossom
;
Explorations
;
Further Explorations
;
Therapy Rapture
;
Darlene, An Ecstatic Rendezvous
(all pub Extasy (
Devine Destinies
). Singer-songwriter/guitarist. Main CD albums Bacteria Shrapnel and Kaleidoscope Concentrate. Many tracks on You Tube.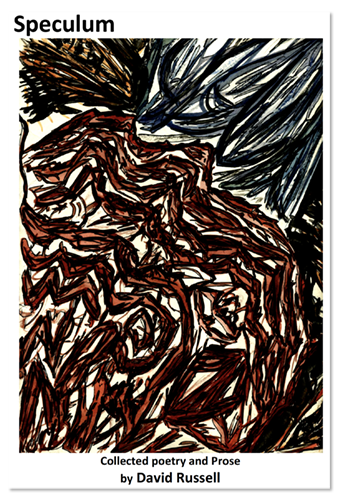 This poem is part of the complete collection; Speculum: Collected Poetry and Prose, by David Russell.
View or Download the complete collection
here
in PDF format.
Follow David Russell on Amazon:
Click Here
.