Poem – Don't Touch! (By David Russell)

Don't Touch!
"Don't touch!" they cried;
They really meant no harm,
Had not intended
To make a shaking,
Jibbering apoplectic
With their nagging.
"Don't touch!", for their interior décor
Indeed was fragile and expensive –
Themselves and furniture alike
To them untouchable, those self-pariahs.
There are no easy stages;
Somebody's lost a memory,
Somebody's taking shocks;
The papers are in order.
"Don't touch!"
Then you'll keep out of trouble:
Don't lead, don't show,
Just jump and load.
You're only sure you're sane, ok?
When one like you is put away.
There rooted the bare, threaded nerve,
The stunted limb, enfeebled grasp,
The shake.
"Don't touch!" –
Their errors paralyse them;
He only wanted to make something work,
"Don't touch! He might be dead."
Author Bio:
David Russell was born in 1940. Resident in the UK. Writer of poetry, literary criticism, speculative fiction and romance. Main poetry collection Prickling Counterpoints (1998); poems published in online International Times. Main speculative works
High Wired On
(2002); Rock Bottom (2005).
Translation of Spanish epic La Araucana
, Amazon 2013. Romances:
Self's Blossom
;
Explorations
;
Further Explorations
;
Therapy Rapture
;
Darlene, An Ecstatic Rendezvous
(all pub Extasy (
Devine Destinies
). Singer-songwriter/guitarist. Main CD albums Bacteria Shrapnel and Kaleidoscope Concentrate. Many tracks on You Tube.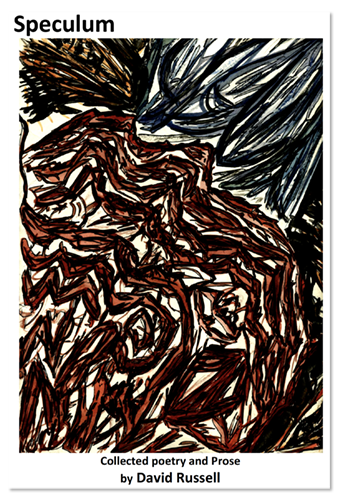 This poem is part of the complete collection; Speculum: Collected Poetry and Prose, by David Russell.
View or Download the complete collection
here
in PDF format.
Follow David Russell on Amazon:
Click Here
.