Poem – It Sounds Dramatic (By R.T. Castleberry)

In this small, blue room—
overheated,
clenched by melancholy,
I sit the night, guarding carnival goods,
blood potions,
the knife thrower's serrated blades.
Two buskers beach-walk a tune,
harmonies muffled by wave's insistence.
A mathematical conceit of
stars burning to earth enriches
water's lap against pier beams,
a night sailor's crossing.
Taken on as apprentice, the alchemist
insists on insurance, catechism and crucifix;
a full week's work with priest, then pick axe.
Days divide into mountain search,
vivid strike of flame on ore.
A prayer's spell breaks in three's,
the weekly thread into discovery or despair.
The shoreline shack, the roustabout's yell
seem far away, gone in alchemy's reach
towards miracle, towards remittance.
Weighting spirit's elixir with carnie coin,
I wait for the brewing fires to rise.
I take the burden as the job–
a gas leak and the locked red door;
forging Dr. Maier's manuscript collection;
turning a mistress to stranger once again.
I confess to breakfast banalities,
a cinderblock sense of honor,
a stab to the throat at the smallest complaint.
A sleep cycle stretch of prophesy
tumbles conclusive heresies,
the maudlin with the mocking.
Irritants aside, cell phone sentiments apply:
I've never lied that you know about.
*Michael Maier (German alchemist and physician, 1568–1622)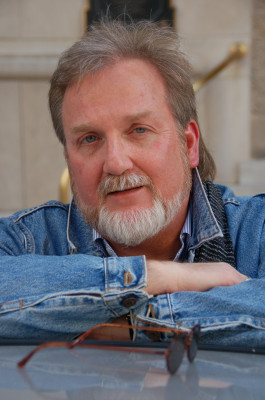 R.T. Castleberry's work has appeared in Comstock Review, Green Mountains Review, Santa Fe Literary Review, The Alembic, Pacific Review, RiverSedge and Caveat Lector, among other journals. I am a co-founder of the Flying Dutchman Writers Troupe, co-editor/publisher of the poetry magazine Curbside Review, an assistant editor for Lily Poetry Review and Ardent My work has been featured in the anthologies Travois-An Anthology of Texas Poetry, TimeSlice and The Weight of Addition. My chapbook, Arriving At The Riverside, was published by Finishing Line Press in January, 2010. An e-book, Dialogue and Appetite, was published by Right Hand Pointing in May, 2011.