Poem – Low Vaulted Ceilings (By Strider Marcus Jones)

within those man stone walls
promoting their god
bringing us to him
i told the priest-
you tell us to be content
with poverty
while you live in this big house
throwing us scraps
begged from money lenders.
this is not what Jesus
asked his disciples to do.
this is not what he died for.
he said live amongst us
and share what they have.
the priest,
red with rage,
oppressive and oppressed-
pulled my mam aside
made her shrink in his stare
weep in his words
walk me in our sins
from his dark-damp house of angels.
outside
in feral sunshine
i pointed to grinning gargoyles
chasing chastened shadows
back down primitive paths-
to a cellar flat,
bare bulb dangling
prison beam probing
baptised flesh
and mam tipped tears
soaking into straw mattresses
sucking up cold from the flagstone floor
woodworms eating a Van Gogh table
where six mouths sat
sharing stale bread and cold beans
with whiskered skirting board mice.
years later,
i left Dedalus in Dublin
in the pages of a book
to his epiphany
and Jesuit suit of guilt-
while i quenched
my glistening fruit
in street light ladies-
drenched in smokey curling
dancing clouds
and stories from voices
bouncing off low vaulted ceilings
caressing human in darkness.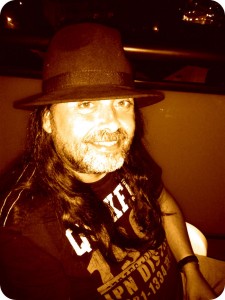 Bio: Strider Marcus Jones – is a poet, law graduate and ex civil servant from Salford/Hinckley, England with proud Celtic roots in Ireland and Wales. A member of The Poetry Society, his five published books of poetry are modern, traditional, mythical, sometimes erotic, surreal and metaphysical http//www.lulu.com/spotlight/stridermarcusjones1. He is a maverick, moving between forests, mountains and cities, playing his saxophone and clarinet in warm solitude.
His poetry has been accepted for publication in 2015 by mgv2 Publishing Anthology; Earl Of Plaid Literary Journal 3rd Edition; Subterranean Blue Poetry Magazine; Deep Water Literary Journal, 2015-Issue 1; Kool Kids Press Poetry Journal; Page-A-Day Poetry Anthology 2015; Eccolinguistics Issue 3.2 January 2015; The Collapsed Lexicon Poetry Anthology 2015 and Catweazle Magazine Issue 8; Life and Legends Magazine; The Stray Branch Literary Magazine; Amomancies Poetry Magazine; The Art Of Being Human Poetry Magazine; Cahaba River Literary Journal; East Coast Literary Review; Nightchaser Ink Publishing Anthology – Autumn Reign; Crack The Spine Literary Magazine; A New Ulster/Anu Issue 27/29/31/32/33/34; Poems For A Liminal Age Anthology; In The Trenches Poetry Anthology; Blue Lines Literary Journal, Spring 2015; Murmur Journal, April 2015; PunksWritePoemsPress-Rogue Poetry; Outburst Poetry Magazine; The Galway Review; The Honest Ulsterman Magazine; Writing Raw Poetry Magazine;The Lonely Crowd Magazine; Section8Magazine; Danse Macabre Literary Magazine; The Lampeter Review; Coda Crab Books-Anthology-Peace:Give It A Chance; Clockwork Gnome:Quantum Fairy Tales; Ygdrasil, A Journal of the Poetic Arts, May 2015 Issue and Don't Be Afraid: Anthology To Seamus Heaney.
---