Poem – Salvation Days (By R.T. Castleberry)

In the turn from wide to narrow streets
seams in the street shudder my tires,
loosed leaves flutter through the fog.
Police on patrol secure the corner
the five-columned church commands.
Blocked by brush-wide blurs of contrails,
the sun settles behind the storm.
There's a death in my house,
a dearth of charity,
a chastened child unwrapping his remorse.
Witnesses see a copy of Lee's Lieutenants
and nine shell casings littering the floor.
I take a bitter way through the morning news,
the rain-burst from a sudden sky.
A mourning coat drapes my shoulders.
Never equal, rooted in disregard
I spent a childhood on the charity rolls,
languish now under levies of job loss or low money.
Curbside beers, meals of tramp stew,
collapse a minister's graven idol imagery,
diminish metaphor and the morning.
Rancor falls, random as a star.
I have no sense of the way home.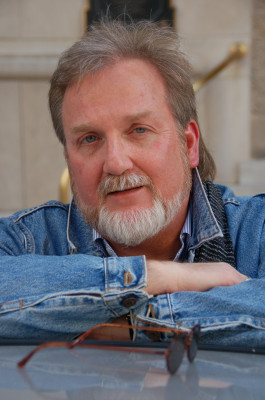 R.T. Castleberry's work has appeared in Comstock Review, Green Mountains Review, Santa Fe Literary Review, The Alembic, Pacific Review, RiverSedge and Caveat Lector, among other journals. I am a co-founder of the Flying Dutchman Writers Troupe, co-editor/publisher of the poetry magazine Curbside Review, an assistant editor for Lily Poetry Review and Ardent My work has been featured in the anthologies Travois-An Anthology of Texas Poetry, TimeSlice and The Weight of Addition. My chapbook, Arriving At The Riverside, was published by Finishing Line Press in January, 2010. An e-book, Dialogue and Appetite, was published by Right Hand Pointing in May, 2011.