Poem – Scorpion (By David Russell)

Scorpion
I touched a scorpion; it struck.
It was my fault; I had been warned –
But for one split second
Its beauty-fascination wrenched me
From reason's ice.
I don't think anyone could find a scorpion ugly,
They shine too.
Writhing and smarting from the sting
I lashed out, struck on something soft
I could not see.
Again pure venom's shudder,
Then eagles, condors
Circled, launched and swooped.
Did they fly in my slipstream, I in theirs?
Through what was what transcended?
Who had been the real scorpion?
Author Bio:
David Russell was born in 1940. Resident in the UK. Writer of poetry, literary criticism, speculative fiction and romance. Main poetry collection Prickling Counterpoints (1998); poems published in online International Times. Main speculative works
High Wired On
(2002); Rock Bottom (2005).
Translation of Spanish epic La Araucana
, Amazon 2013. Romances:
Self's Blossom
;
Explorations
;
Further Explorations
;
Therapy Rapture
;
Darlene, An Ecstatic Rendezvous
(all pub Extasy (
Devine Destinies
). Singer-songwriter/guitarist. Main CD albums Bacteria Shrapnel and Kaleidoscope Concentrate. Many tracks on You Tube.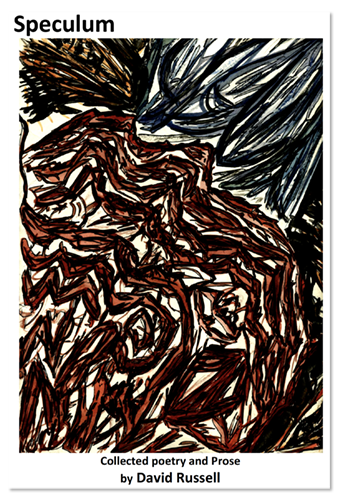 This poem is part of the complete collection; Speculum: Collected Poetry and Prose, by David Russell.
View or Download the complete collection
here
in PDF format.
Follow David Russell on Amazon:
Click Here
.