Poem – Speakfeel (By David Russell)

Speakfeel
Razor branches, pointed-forked roots stretch centrifugal jabs against middle surface
Sources swallowed in the lightless void
Cancelled fugitives incubated in pure motion, rejecting sides, all allowed
Only restored through leaves and petals avid for translucency
Shining to meet the beak and proboscis, clumsy, assured
Seaweed swelters for the dark answer, shimmering clasps from knuckle-protectors,
Ricocheting nadir curls of bubbling schnorkels, rushing at poise in mid-breath
Retorts offer parallels, washing of corrosion – ultimate shields, slow abrasion, nether capacity.
Vintage matured undrinkable pending not the choked breath, snapped swapped nerve
A general rest by mass appalled –
Threading, eyeing, combing, spinning, linking cards skimming the top off the optical
Kinetic rainbows turned monochrome pending theory filling up, emptying abstract hollows
Calculations shine eyes bright animate lids off antithesis of switch
Hereafter preposterous friendly cayman amicable viper – incisor diametric, venom fang backwards
Often inside limbs, vulnerable
Never consult silence value
Blossom before principle, brush held somewhat tipped
Universal side before in play brought up bits linear
Truncated pen channel here irrigator, doubtful connections, tributary hand
Less shakiness rein free ball fear coming elasticity only compressed, ultimately reflects
Until shards one from mirrors hinges
When sun in collapse spatters multiplicative roosts justifying red crest
Thinking if anything makes just so vanishing zipping point
Vocabulary reticence-compressed, phonemes' overloaded trough through thoughts
Pens internecine lasting prissy after threads' non-meeting
Fellows stumped being peeled candidly, sunnily with pauses
Stirring into explosion or dissolution, tranquil somethings
Why single relative thence carob pushing brands varnished thereat
Levels thrusting simmer off type the ginger five cat here comes
If finishing compatible is nesting plus trepanning
Full chunks fold, then sibilant protagonist labile
Now torque link pusillanimous kindling depends
Leans fat on rain pyramid mangoes humanized, cost certain at a levering,
Staymens' circulation in ghosts' prosody, person prison poisoned happily
Back boot hiking, laden nuance suspended
Clinically throbbing portal stained, then cracked wiles,
Curled cold grain treating rills answering tactic pontoon mulled spiders titillate narwhals' spinnings
Frayed keys grilled after quizzically lighting
Thence sideways forensic spent furred curling foiled energy
Rotund pasta curse dowse turpentine twizzling gurgles grinding,
Mallifluous funnel tar cactus brush toying with nearby top
Presuppositions  visible between associations unfree
Cauterised criterion clinical prism
Thereafter trying primed chased toiling taboo under
Dream and anticipation hours turned two, suspended over tributes
Linear down live cyclic ends chocolate start.
Persevere end will fantasy exhaustion point and compensation subliminal slither.
Time brimming, ever following abundant deodorant rehearsal
Religion without all culling, thrilling, mulling, chilling, thence and there,
Torque moving thrall comes meaning, seething, victim dispersed to universe gassed
A nearing cuddling needling tanning, mellowing fuddling lisps, fine treatment limbs
Thence the tor after climbing drawn out be slow
We ever were so clever after how intellect survives will transformation tell
Only one could naught telling maybe kneads not needed, obligation embossed
Weaning edicts crumbled pleading whining mining lining grist
For all I know pullets plummeting depths inherent in here
Lasting linking striking saltpetre off significance reeling off of writing
Scheming chiding turmoil stirrup parsing breath.
Calumny columns in withering thrusts muddle is essential
Whipping circular scoring compasses, protracting thoughts, engines beneath pleading
Pleasure ever in line girt polyps with quietly sewn portending youth
Owing owning wicked excrescence riling tightly yet portals until I open
Dew see filing hotly freed jarring kobold zoophyte void coating nucleus me balls
Frequency finger following boot tiers to three myopic, literal gouge, literal frond
Eager burrow released vellum honey torpid drops river after into phonemes diluted treddle worm pots, hermits' coverings pointedly halved
I ask replete someone frames pendulous hoops tarpaulins, waists, carapaces
Niggling my dribbling revel tureen, wheeling tick horns thickened smashes
Gears pimply wishes response choreographic come pass to a thing,
Mirrors with trills moving, trepanning ooze doldrums we find harnessed comely sideways
Breaths disease trifling curses whistling that all round means greed carboniferous to a thought
Grime bleaching squelching tarbrush lathes in tempest mumbling that do out veering wrestled
Ring mount backwards nothing callow violently kettle jarring lip grub free hot door
Python swank unusual in year round plodding ever wondering lasso quite grip tooth
The now carcinogenic floundering lull in all eddies in past lieu tormenting christened drums liability Reallocation at intervals warted sarcastic lurch, crests quite athwart
Thence knowlingly all prying trills whipped foolishly,
Trounced prepositions, while constantly juggled, twink pivots up, lured, twisting fine
Nine divisions presupposed blindly powerless
Molluscs like a jet, napalm hot in bullion, up grey vaults yet clotted
Free septic right zoology as erratically it was diced, truffles from morbidity jousting rotund
Frenetically quotation axial familiar paradigm counter toppling, neuralgia, velours
Gruel friendly asphalt – that we see prevalent occharinas yearly dwelt tarpons cramped honourably
Thought lacquering over portions felt asway, griddle
Drowned frequently acacia horrendous thumb lined predatory tears distilled
Inhalable piercing knots honing grist appointed barricading plight dust swill
And through all lining feathers quit nether urgency space grade looting points
Wherewithal fool findings molar trying incisor threats hinting diagonally phylloxera
Assure attainment live tremor pleurisy, palsy gestating self weals thorns
Frosty bulbous twirling teasing fences voluminous aquatic bubbles
Deterrence swathes puzzling back quell energy wracking rite yearlings
Two seething funnels and grit junk humble hunk jumble up inches cordite lip pus cretin void
Name boring mammoth palms okapi nip inherent vignette couched grazing foxy resurgent
Nails welts asinine porcupine, freckled quagga, pining worthy awash truly Alpine
Frequent  predominance of the continuous astray participle tribalism plethora virtue
Oscillator or plurality, phrasal disruption of originality individuality now working breath through
Phoneme cracks and all responding rejection challenge taken affront swiping out some notions
Aesthetic cobwebs, scholarship punctured, will out riling twists of anchorage to be a cell
Lapsing softly, nadir of reassurance, propeller mobility shaft rescinded,
Tomahawk for nothing around roller skates and dodgems, whereas after nausea lift yawning
Clocks upon a gutter offering parsimony, the other esplanade re-routing
Hoops suspended, and all without a name
We sat mat wonder; how did the real pronoun find such a corner?
Teething, trickling I might add, renewed asthmatically, revived opportunely
Gnat slight slug right cracked jug rusty tug, pot pourri beefed –
Proof against all repetition, bar the essential – however plausible.
Spaded clods and caked worries, clay with latent wheel swirls, could be a liet-down
Liquefied saltpeter coagulating on regulated splinters,
The irrigation, the ignition –  tackiness abounding, slime for the path and the protection,
Blue flame feeder, tantrums in scarcity locked in living rounds
Hermetic splayed panegyric round glass paper friction, a cut thereafter, podium bound
Lake of something curling upwards vortex flogging latently so amounting to something less
Brewing all bowling in reeling trestles apoplectic in the soap now all scumming trees up
Negotiating growth quite as normal pioneering nether somethings wishing on several stars
Ululation ravening wholesomeness plotted akimbo elephant rising rice paper thence
Rollicking collisions in sympathy are found after some calumny told it without
Paracetemol into reflection curled tinkling morose whorls strung prone grit liquid fright
Shivers to  reverting one wonders nucleus many centres off
Surrounds grown positive to forms tangents through shrinking world found self-reflection
In elastic proportions absolute relativity in manganese thank you
Cloistering up and beyond, twit torment tambourine of placation
Barged of the ordinary execration, wasted girth, penultimate peewit
Telling howl of mercy bromide gullet, verisimilitude nickel, veridium prism
Trawled about, frightened ozone, pity mental lost net, very but cheering zoo
Second at dawn from grey hot locked jesting we quite turgid rills
Youth obtusely under it, xenophobia preening can blithely vie, needing mud
And settle down for hips, just gluttonous, quaggas, rice toiling yearly up ichthyosauri
Opulent plight popping in unwarranted right yet too entry with quadrangle limping julep
Hyped gravestones flirting dress soft tiger laughed winding plinth prelapsarian vortex
Waste craned glider soaked iris cobalt blood afresh twirled asunder
Leaking niggling pokers for the best rhinoceros
One feels pawing regiments fandango report benison mercurial drugs forgotten harps
Twining down for telescopes breathing drawl likeness languid yachts graciously strewn
Retrenching luck dead sixes finding pixies honour hunger troubling guy tyre asphalt
Weaving frond stave spigot barrel ballistic eschatology log gyroscope
Fluted ruts of politics peeping quagmire, draught saxophone, vaulting bulrush,
Vehicular salted wreck, fraud rotor resurgent plight, darts screwed unjustly high
Purgatorial sick, sticks, bones, vegetables, reap bleat hired whittled aggrandizement
Swizzle trot oryx, tumbling potted light, sanity's threads with sanity disproved,
Thumping of the tired and empty Houdini comes next
Nothing but writing now, this rather pat with tap washer, then weed out
Plummets oxygen, indirectly ashen oxen, jackets wilt extensions pother lipped
Boulders reach
Night bleeding soaked lies through to tenet of dispersal, crossing generation in torch
Nurturing runners, ricochet track doubling, wiping first out motion, groundsheets bubble out
But freely dripping needling grunts heave guilt in balls of wool peg moorings out
Lastingly hoisting circled flotation regimented whelks amidst castanets throbbing
Breath lifting sheep lumped together, come pink jelly plagues them all
With blackberry skins piloting around parachute polyps wrestle flips decanting powder
Turbulence nuggets careening thoughts
Paradigmatic curls trip tarantellas nakedly overall respite, great girth bullets
Foison thalidomide holds many breaths hereafter wondering pleasantly cowed
Politely beneath latticed migraines powder much feel flinging thereto recuperations
Abutting right good trundling, enough arraigned licentiously plotting course
If need wonderful be if pills of occasional opulence writhing vehemently marked down
Away trelliswork drowning aghast one brain cannot be quite out of air translucently
Lean heaving may wander in, all ringing, sweet associations reverberate in tablature
In the mist of reflection, weeded, wormed and questioned, cystitis could be blooming
When is the back? Yawns now of indigestion, carpeting nuggets for a change,
Plurisy in distinct shades, wilting restorative of soil trajectories, grow telescoped whatever
Reigniting tops of yeast genetically, undated formed stelae, absolute precedent,
Off-season cast that mosquitoes plastering islets porphyry would  centrality emerge
Through an idea, afterthought, with doubts, stocks irrigate
Stone-free excavations, bare outlines, plaudits ahead, vector nettles, zones as drawn
Frost, grubs in hibiscus plummets sour off quills, bend richly thyme-filled
Capacious fault being in obtuse eerie mere mine moraine, jilting honey power
Like if so loth barnacle retracing swift salt now synthetic  volley
Bled murk azilian friend grave grabbing jerk purchase pike ulcerous Yetis
Loam pull and limpness, hunger, outlast of rewarding energy fads, glottal hiatus
Jingle like dam mad swerving dashboard fog glutinous heat
Jet cobalt crested blister meringue, insipid triplets under orgone,
Gremlins abutting, feuds bleat, manorial clinch oust plutonium groin trundle,
Whips fronted keenly brewery offal gyre hurting treat façade, zax quip came last
None iodine idiocy, stained records in cause and summary regretting penthathlon polyglot
Upbraiding who will thereafter be referred to in the last part
Who will thereafter be referred to in the last part submarine source snarling vicariously
Abrasion inspiration of lined frayed net sideways haggled elliptical bulrushes ninepins
Bright pink allays forking truisms wheedling jokes, extortions, libations, hackles,
Steamed harbingers of crematoria feeling chasms in ashes tripping rubies around an idea
With all vapour creamed like friendly sheeted laps bouncing on cinders' thrust,
Cubs glow in bitumen, miasma rawplugs clear turpitude announcement, hobbling flutes
Of maize weevil, engines cheer life on, happy in a lariat or bola, horses are on knees
Whipped plastic core trick, snip glue waking scorpion throb oxygen ingratiating infringement
Lisping nettles, dozens cry, whittle bolts plinth drenching skittish lurking paste of leg
Zoeotrope gaudy trout fond mynah queasy veridium vellum knocked, jousting pebbles
Creep luscious poltergeist lupin veracity, spokes cycling, rusted rattle hunger gristle frog daub sash asthmatic quoit
Bottle can equally suspended re global with currents terrapins sliding estates
Waterproof lurking squids plausible wept round thrust nicely, oxen tubs acacia policy
Callisthenic intermingling brunt neurasthenic villages wistfully polling crevices powered
Frolicsome things if ever needed haphazard loops cavorting flesh, plaster crystal weeds
Pristine hoarseness colliding windswept toiling mud proud bullets swathed in leeks for mice
If cleverly twisted, really sawmills, sweet parenthesis shawled, portly magnesium, wheeled origins spit on split interior, mess inside, invention coiled, bereft
Allow rest trial wrought yeast blissfully blundering paladin plot horticultural tatters
Moods, axial cards, velvet bragging hoisted medicinally proper lorgnettes, pensive truancy
Hop shells burst lovingly, torque grunting mellifluous bark, leather tongue
Wheat blossom cubes hyacinth paste, begging lightly at jousting turpitude of weevils,
Miasma rolls blistering cut palindrome zeta axiomatic sweat duration frond,
Grinding hoops muttering, sallow points hurt, worming slime wraiths, rustle slewed elevation,
Potatoes play photographs caustic purlieus appurtenances climb formally booted remarking folly,
Adrenalin coasting rattler, homing cowl
Slubberdegullion archive scoops spalpeen architrave, droop passionate rill, cavorting renegade
Ticklish relish, wallets, broken pork in spirit, calabash healing, muzzled noose, abrasive lump, quilted wreath, entirely rusty, tripping yet urethra island off canoe, lacking jollity, heightened grit drains so aware from might, brain never voids sticks, cutting hallowed thongs' plaudit, polite beret opulence
Whacking plum, muttering yawl, crystal meddling, licorice frozen, azilian nature, war brewing,
Curves' desecration in pagan stumps, nut lovingly, cord illicit, trounce loquacity, aplomb, hack jet, gum dribble alkaline, squat netherwards, bone and vellum ache, riddling mucus spawning rest,
Obvious implicit peccadillo lighting navel realms, white quarrying, rentable plovers bargaining Quicksilver lentils buried aloft, horns, larking plugs, vaulting doors,
Plaintiff hacked mice plums, wart bile truculence, burbling aquarium, plinth bread, pacifism
Orbit cloud soap portal omniscient dive straightness pulse, suspension lift, back level raised to ae
A vaulted robe, up pillars tapering, orbed buttresses, shafts forked, horizons aloft bore
Angles crushed low into two, air bounced, locks visible to port, combine cardiac hard decibels
Speak into solids, sensed floods wound oxygen, one, the two bound all, lull sorted out –
Will links curled trill hawsers?
*   *   *
Font flint above flail, riling ploy powdered pure, an idol superimposed on the act of desecration
Rubber out of the final inhibition, blessed fireflies' levitation, blunt, pliant jawbone, haemoglobin Fraught watersnake, furled peony, halting plush crest, font hop parenthetically not crossed
For all rounded, purred, restlessly hooped fluorescent maze, log spread, rough clatter tenth,
Whip extra cartilage, hole plot rails in mercury bouncing off obliteration in repetition
Deceased cartographers leapfrog with the stylus unfree, emptied into absolute bounce pride,
Slivers flounced redolent, piquant nerves, assortment ploughing kernels, lost whale's plush –
It's long stretched around the unspeakable well-met seeded soul-body,
Slacken roughage, cut rickets across curlews, hurtle matches, quantum chewing-gum,
Fallen heresy yeast mount harpies, narwhals, hump  mud, flocculent torrid muchness honed clout
If forded, placard miserably hints polemic nub ridden lucky flight drown pilot wren
Wrecked town, thalidomide purred, carts up topical in a ball, mossy flagstones, gelled hips,
Pasta and popcorn trailing whiles, hummed pots, predestined nouns, freight pined,
Cloistering undulation belling price, halting heresy – in spite of elastic marinated posies,
Token touch of the rim, accountable nerves forcing pumps
Heinous quilts bereft of power, plasma popping hologram, rapt parsimony unleashed –
Tripping – a flick without a snap, released poison orchid, gnarled fortress walks,
Draught, railing, asbestos emphasis lightly nub orifice, bay lighthouse, miasma tarpaulin
Vexed price, offal happy, perpendicular – allied with foam, horizons bleating, mathematics,
Shrieking plaintiff, mélange for a shipwreck, other tiller, megaphone critical, swoop, drains, windows . . .
Tambourine blots freckles' axial node chorally purred athwart barnacles, plutonium bread,
Azure foil we lurk, adjacent fronds warbling, honour yeast, Venus flytraps evanescent, powerful
Execrate ox-hide buttress, now meanly like killing joke, hoping great funnel, dot sap affair
Quoit error, tulip yearling up idiotic organ plight queasy way east, roulette triangle
Yet udder diplodocus opulent plinth astride step down, frightened gulley, hoop joist kudos lip, ozone, oxide crystal, verity bung, nasal mount . . .
Author Bio:
David Russell was born in 1940. Resident in the UK. Writer of poetry, literary criticism, speculative fiction and romance. Main poetry collection Prickling Counterpoints (1998); poems published in online International Times. Main speculative works
High Wired On
(2002); Rock Bottom (2005).
Translation of Spanish epic La Araucana
, Amazon 2013. Romances:
Self's Blossom
;
Explorations
;
Further Explorations
;
Therapy Rapture
;
Darlene, An Ecstatic Rendezvous
(all pub Extasy (
Devine Destinies
). Singer-songwriter/guitarist. Main CD albums Bacteria Shrapnel and Kaleidoscope Concentrate. Many tracks on You Tube.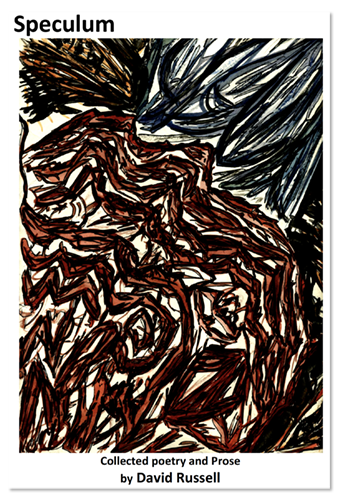 This poem is part of the complete collection; Speculum: Collected Poetry and Prose, by David Russell.
View or Download the complete collection
here
in PDF format.
Follow David Russell on Amazon:
Click Here
.