Poem – Underwater Ballet (By David Russell)

Underwater Ballet
In the wistful – drowning;
All dreamers hold their breath;
Floating balloon
Rests full in blister world before the land.
Slippery between skin and scales,
Drawn throbbing from the gilled;
Great tuna from crustaceans postulated,
Anemones new-boned;
Parallel concert writhe
Curls double joints.
Flippers of androgyny
Erected supple
Thighs hoisted angular
Lungs ultra-blown;
Last bursting thrust
Febrile diffusion;
Velvet sense – soft through soaking,
Impervious skin in utter life.
Its elements sliding;
Gills suckling lungs.
Author Bio:
David Russell was born in 1940. Resident in the UK. Writer of poetry, literary criticism, speculative fiction and romance. Main poetry collection Prickling Counterpoints (1998); poems published in online International Times. Main speculative works
High Wired On
(2002); Rock Bottom (2005).
Translation of Spanish epic La Araucana
, Amazon 2013. Romances:
Self's Blossom
;
Explorations
;
Further Explorations
;
Therapy Rapture
;
Darlene, An Ecstatic Rendezvous
(all pub Extasy (
Devine Destinies
). Singer-songwriter/guitarist. Main CD albums Bacteria Shrapnel and Kaleidoscope Concentrate. Many tracks on You Tube.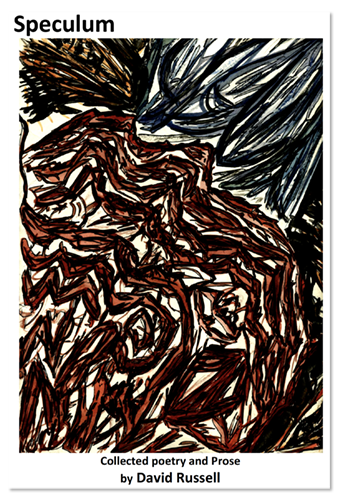 This poem is part of the complete collection; Speculum: Collected Poetry and Prose, by David Russell.
View or Download the complete collection
here
in PDF format.
Follow David Russell on Amazon:
Click Here
.