Poem – Work out of Progress (By David Russell)

Work out of Progress
I suppose it must all go on indefinitely –
Just when I thought it had all been played out,
All become superfluous.
I am at the stage of universal discarding;
I suppose that many people see, through several decades,
What I pushed aside in a matter of months.
Discarding is basic to life: I am not dead,
So I must keep on discarding indefinitely;
It is also what keeps the others going –
Writing is a sort of discarding –
Some sense comes from putting something
Out into the void, the negative black
It may after all come to something –
Though not necessarily –
Not really necessary
Though nobody knew how to say so.
***
Childhood was a waterproof lining
Imprinted with the patterns of crossed fibres
Making jagged scratches on him
Who would have the perfect inside out
After folding it tidily and putting it in a drawer –
So many repetitions formed a furrow
In the musty darkness.
Wisps of ivy demarcating what was to be the next door
Levelled under a rubber cork corrugated roof –
All climbable, unlike the ivy climbed over.
Author Bio:
David Russell was born in 1940. Resident in the UK. Writer of poetry, literary criticism, speculative fiction and romance. Main poetry collection Prickling Counterpoints (1998); poems published in online International Times. Main speculative works
High Wired On
(2002); Rock Bottom (2005).
Translation of Spanish epic La Araucana
, Amazon 2013. Romances:
Self's Blossom
;
Explorations
;
Further Explorations
;
Therapy Rapture
;
Darlene, An Ecstatic Rendezvous
(all pub Extasy (
Devine Destinies
). Singer-songwriter/guitarist. Main CD albums Bacteria Shrapnel and Kaleidoscope Concentrate. Many tracks on You Tube.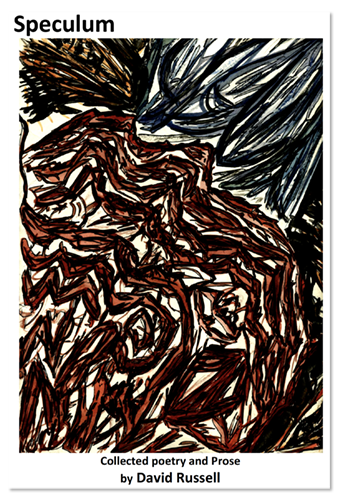 This poem is part of the complete collection; Speculum: Collected Poetry and Prose, by David Russell.
View or Download the complete collection
here
in PDF format.
Follow David Russell on Amazon:
Click Here
.