Poem – Following the New Guru (By Lee Marc Stein)

Following the New Guru
Before True Detective McConaughey
took the wheel and became Zen Master
of the Lincoln auto, he layed down
the gospel according to St. Matthew:
"My rule is to break one sweat a day."
Farshvitst, I contemplate the sound
of one hundred six beads of perspiration
splashing on the dashboard of my treadmill.
Stop running and I violate Matthew's dictum:
"Life is a series of commas, not periods."
Investing my faith in him I'm glad
he didn't say comas or colons.
Lee Marc Stein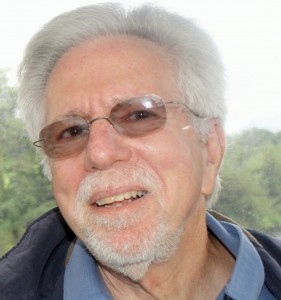 Lee Marc Stein is a retired direct marketing consultant living in East Setauket, New York. His poems have been published in Blast Furnace, Blue & Yellow Dog, Blue Lake Review, Message in a Bottle, Miller's Pond Poetry, River Poets Journal, Slow Trains Journal, Still Crazy, Subliminal Interiors, Write Place at the Write Time and The Write Room. His first book of poetry, Whispers in the Galleries, features ekphrastic poems.
Lee has had short stories published in Bartleby Snopes, nicollsroad, Write Place at the Write Time, Cynic Online, and Down in the Dirt. He leads workshops at Stony Brook University's Lifelong Learning program on modern masters of the novel.