Poem – Triptych (By R.T. Castleberry)

I.
As suspicious of the morning
as I am thankful for the night,
I no longer follow bird flight,
the sinking of the violated sun.
Mouthing a dialect
of short checks and charity wards,
I stare at a wasting life,
unhappy, aging, unhealthy.
Sympathies have been trained out of me.
The elegance in a sniper's logic is what remains.
II.
Never go home. They hate you there–
the life you have, the one they own,
household history you reject for review.
There will be no grace, no praise
in their greetings, the holiday insults
extended at the door.
No friend would serve to
a cracked cup, a chipped plate.
Go and settle only where you're loved.
III.
The contrarian stance is the reflexive line,
a link I scan with a brutal eye.
Reading for Thursday's lesson
I replace the King James with a New International,
Proverbs with Revelations.
A stone, savage as prophecy,
lies across pages marked for service.
The weight is right. It fits the burden.
It shapes the day for will, for warring purpose.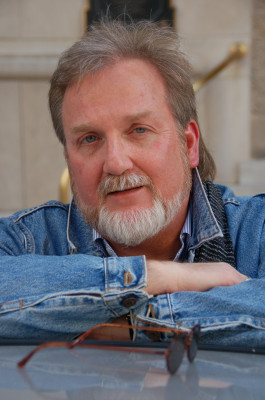 R.T. Castleberry's work has appeared in Comstock Review, Green Mountains Review, Santa Fe Literary Review, The Alembic, Pacific Review, RiverSedge and Caveat Lector, among other journals. I am a co-founder of the Flying Dutchman Writers Troupe, co-editor/publisher of the poetry magazine Curbside Review, an assistant editor for Lily Poetry Review and Ardent My work has been featured in the anthologies Travois-An Anthology of Texas Poetry, TimeSlice and The Weight of Addition. My chapbook, Arriving At The Riverside, was published by Finishing Line Press in January, 2010. An e-book, Dialogue and Appetite, was published by Right Hand Pointing in May, 2011.