Poem – Writer/Schizophrenic (By Alfonso Colasuonno)

Yeah you
I heard your conversation
You're leaving us?
Yeah, well just know one thing
This isn't such a sweet little town
Oh, believe me, it's not a sweet little town
This town has some crazy shit going on
Would you believe me if I told you–
Wait, you're not going to believe me
Come on, look at you, guys like you don't believe me
You know that coat of yours?
The Gypsy had a coat just like yours
Do you know the Gypsy?
Oh, fuck, I don't know what his name was
He looked like you another decade in
Same long coat
He stole my manuscript
No shit he stole my manuscript
I was working on some serious shit
I called the cops, but what use
See, they're the problem
I told you this isn't some quiet little podunk town
The cops are in on it
With the Freemasons
And the Mafia
And they run drugs down I-80
I'm not going to tell you which place
I don't want to get killed
But it's one of the places in town
They do the drug running through their basement
And that's not it
You ever been out to the woods?
Well, if you go into the woods sometime
Ha ha, if you go into the woods, believe me
You'll see some crazy shit
The Satanists operate there some nights
Their special nights
Where they do their rituals
And I've seen bones, human bones
It sounds crazy, but it's true
I wish I were crazy, but it's true
And if you see that Gypsy
Tell him I'll kill him
If he doesn't give me back my manuscript.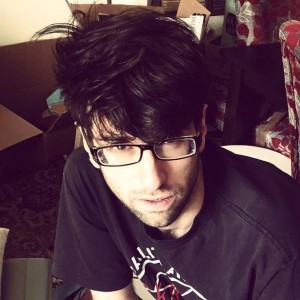 Author Bio:
Alfonso Colasuonno is a writer, actor, and activist. His fiction and poetry have been published in many journals, including: The Milo Review; The Camel Saloon; ppigpenn; and Pretty Owl Poetry. He lives in Norwalk, Connecticut, where he operates a freelance resume writing business (http://www.alfonsowrites.com).

Hey you