Poem – A Husband Falters (By Donal Mahoney)

A Husband Falters
Better take his wife to lunch
after what he said yesterday.
A slip of the tongue.
But where to take her?
The Chinese buffet?
The Indian buffet?
Maybe the Japanese place.
She likes sushi and tempura.
But when he asks about lunch
she says not a chance.
She has to clean the house.
Cleaning lady comes today.
Author Bio: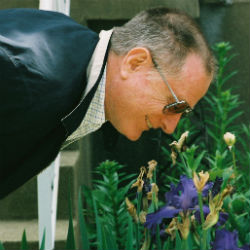 Donal Mahoney lives in St. Louis, Missouri. He has had fiction and poetry published in various publications in the U.S. and elsewhere. Among them are The Galway Review (Ireland), The Recusant (England), The Missing Slate (Pakistan), Guwahatian Magazine (india), Bluepepper (Australia), The Osprey Journal (Wales), Public Republic (Bulgaria), and The Istanbul Literary Review (Turkey). Some of his earliest work can be found at
http://booksonblog12.blogspot.com
and
some of his newer work at
http://eyeonlifemag.com/the-poetry-locksmith/donal-mahoney-poet.html#sthash.OSYzpgmQ.gpbT6XZy.dpbs