Poem – Fifty Years Later (By Donal Mahoney)

Fifty years ago
Jane got on a plane
and flew away
without saying good-bye.
Her parents took her, I know.
She was only 14 but she
could have said good-bye
to me, the swain
who saw her through
our last three years
of grammar school
when she wore braces,
the only girl who had them.
Fifty years later
at our class reunion
she didn't come
but I did in a new suit.
Charlie showed me
a class photo of all of us
smiling except for Jane.
The braces, I guess.
Charlie asked how many kids
I could name and I named
every one except for Jane.
Charlie said with mock surprise,
"You don't remember Jane?
You two were pretty tight,
going to the movies and
sitting in the balcony,
buttered popcorn and all,
a pretty big deal back then.
Someone told the nuns
and they were furious."
I smiled and said
"Well, Jane flew away
the summer after eighth grade
without saying good-bye.
I heard ten years later
she got rid of the braces
and married some Swede
who likes sardines.
He makes his own lutefisk.
I wish Jane and Ole well.
She was only 14 but she
could have said good-bye."
Author Bio: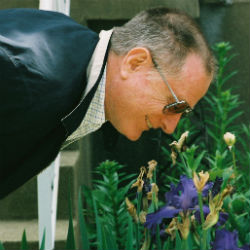 Donal Mahoney lives in St. Louis, Missouri. He has had fiction and poetry published in various publications in the U.S. and elsewhere. Among them are The Galway Review (Ireland), The Recusant (England), The Missing Slate (Pakistan), Guwahatian Magazine (india), Bluepepper (Australia), The Osprey Journal (Wales), Public Republic (Bulgaria), and The Istanbul Literary Review (Turkey). Some of his earliest work can be found at http://booksonblog12.blogspot.com and some of his newer work at https://www.antarcticajournal.com/donal-mahoney-recent-works