Poem – A Milkshake Brings Advice (By Donal Mahoney)

I bring a milkshake every other week
to an old man in a nursing home,
a refugee from Germany who paid me  
50 cents to cut his grass 
when I was 
a kid in Chicago after WWII.
I couldn't understand him then
and I can't understand him now 
but 50 cents was big money 
10 popsicles or maybe 5 Cokes.
Or I could mix and match and
trade 
Pete the Collector for a baseball card.
Now my old neighbor sits in bed
and swigs his milkshake as 
I tell him  
that I drove by his house 
the other day 
and the new owners 
have planted 
roses and lilies everywhere.
A botanical garden in bloom.
Because of the language problem
we never talk about anything
except the house h
e will never
see again and then marvel that
he will turn 100 soon, quite a feat.
He smiles at that as well.
But he doesn't smile 
when I get up
to leave and offers me advice
in the thunder of his accent:
"Someone had better stop ISIS now.
When I was a kid in Berlin, no one
stopped Hitler the bastard then."
Author Bio: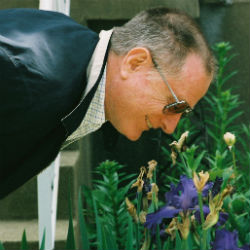 Donal Mahoney lives in St. Louis, Missouri. He has had fiction and poetry published in various publications in the U.S. and elsewhere. Among them are The Galway Review (Ireland), The Recusant (England), The Missing Slate (Pakistan), Guwahatian Magazine (india), Bluepepper (Australia), The Osprey Journal (Wales), Public Republic (Bulgaria), and The Istanbul Literary Review (Turkey). Some of his earliest work can be found at http://booksonblog12.blogspot.com and some of his newer work at https://www.antarcticajournal.com/donal-mahoney-recent-works